If you're planning a family trip to Paris with kids, you'll find an almost endless supply of things to do without getting bored. Paris is an exciting city with plenty of kid-friendly activities, like museums, attractions, art, restaurants, shops, beaches, and parks. Strollers are easy-to-use on flat streets and walkways, and the public transportation system makes it an easy way to ride to another outing.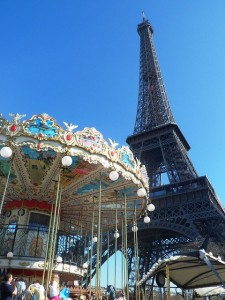 Choose activities for your kids based on their ages, interests, and usual activity levels. Obviously, high tea rooms aren't appropriate for your toddlers, and trying to speed-visit every museum in a day isn't practical. After all, you're in Paris to have fun with the kids, not to overwhelm them. Your kids (and you) will have more fun with planned site-seeing that allows breaks and time to explore. In between activities, schedule downtime for older kids and naps for little ones.
Here are our top five things to do in Paris with kids:
Cité Des Sciences Et De L'Industrie (The Museum of Science and Industry) – Paris offers a variety of museums, and this is one of the best for families. Located in the modern Parc del la Villette, The Cité des Sciences et de l'Industrie dedicates itself to learning science, in the most fun, kid-friendly way possible.

The Cité des Enfants (Children's Village) highlights hands-on activities geared toward children's imagination. Age appropriate exhibits feature topics with definite kid appeal. Kids can learn to program a robot, become a broadcast cameraman, and explore the human body functions in the show "Snot". Various exhibits offer fun facts and activities for all ages, from toddlers to young adults (and their kids-at-heart parents).

The Parc de la Villette – This park has a little of everything, and all of it's fun! The park has ten playgrounds with fun themes, like the bamboo garden, fog garden, mirror garden, dunes garden, and the dragon garden (the Jardin du Dragon) featuring a giant, dragon slide. Inside the park, the kids will love the movies held inside Géode, a polished steel sphere with a 180-degree film screen.
CinéAqua: The Trocadéro Aquarium – Located in the historic Trocadéro area, the awe-inspiring aquarium features forty-one water worlds of tropical fish, exotic underwater species, sharks, and more. Take a 1 ½ tour of its 8,000 creatures, as you learn about fish in different regions, watch a shark feeding, and touch fish in the fish pool. Kids will enjoy the interactive exhibits and its unique film and animation studio, which boasts an underwater, sound studio; an underwater robot and film program; and a cartoon workshop.
Tour Eiffel (Eiffel Tower) – the kids will love this signature site of a Parisian vacation.
Visit at night for a grand view of the city. Ride to the viewing deck via elevator, and afterwards, let the kids run around the beautiful grounds, the Parc du Champs du Mars, with gardens, grass, and a playground. Mark the Eiffel Tower as a must-see place for the whole family.
Jardin du Luxembourg – this historic park is adored by residents and visitors. Once part of the 1600's palace grounds of Marie de Médici, the second wife and widow of King Henri IV, the formal gardens feature beautiful sculptures, fountains, and terraces. There are lots of things to do with the kids, including Paris classics, like watching the grand marionette show, sailing boats at the octagonal Grand Basin, listening to music, riding the Ferris wheel, and enjoying pony rides. The free park is open all year. Grab one of the park's lawn chairs and enjoy the scenery, including the two notable fountains, Fontaine de Médicis and Jardins de l'Observatoire.

Additional ideas for fun activities in Paris with kids are found on our page Paris Theme Parks.
With fun attractions, kid-friendly museums and parks, visiting Paris with kids will be an unique learning experience you'll enjoy and remember forever.